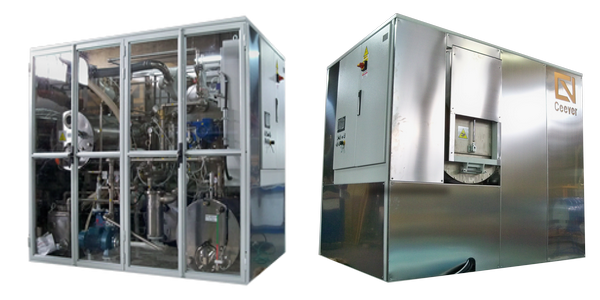 The disposal of the refusals of distillation is qualified as "Special Refusal" and not as "Toxic harmful."
These solvents are biodegradable and no toxic for aquatic life, they have no harmful effect on the ozone layer and are characterized by a low vapor pressure.
In response to the ever growing new requirements, also including the ecological aspects, the company CEEVER has developed a new line of CK- plants that work with solvents on the hydrocarbon base.
The plants that belong to this series are usually composed by a cylindrical horizontal chamber of treatment, 1 or 2 tank of service and a distiller of solvent
The chamber of treatment usually contains to its inside a rotating structure to longitudinal axle. Such structure allows the total or partial rotation (to choice of the consumer) of the pieces inside of the washing chamber.
During the treatment, all components are operating under a vacuum at locally controlled absolute pressures.
The plants are entirely controlled by PLC and include a display, which provides a graphical representation.
The distiller has the function to distill the solvent present inside of the machine and it is of fundamental importance because allows to realize the washing with a distillate solvent
The cycle of standard treatment is divided in 3 phases:
    Vacuum prewash
    Vacuum washing with distillate solvent, or rinse with solvents vapors
    Vacuum drying
More info
Technical data sheet