TUNNEL.LINEAR.RR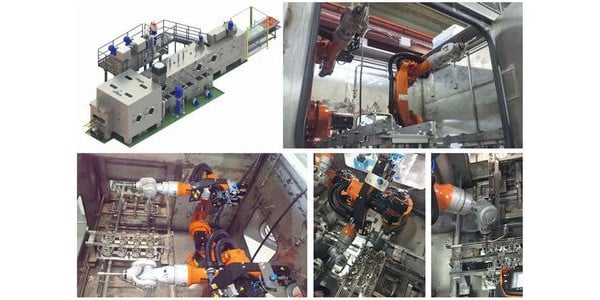 The washing / deburring tunnels of the TUNNEL.RING.RR series are ringed treatment machines particularly suitable for complex shape components.
These plants are frequently used in production lines in the automotive and aerospace sectors and for inter-process treatments both for precision treatments before assembly.
Given their flexibility they can be used for large or small productions.
Designed exclusively for water-based spray treatments, the treatment effect is based on the combination of chemical, mechanical and thermal action.
The machine consists of a tunnel with different treatment stages, equipped with a conveyor assembled on the storage tanks for the treatment solutions.
The operating is based on the step movement of the pieces, housed on a pallet with a defined geometry. The part in treatment goes through the different phases of the process.
During this movement, the details are invested in each of their cavities by the spray of high pressure heated treatment solutions.
In one or more stations there is a 6-axis anthropomorphic robot able to hit all the areas of interest.